…………………………………………………………………………………………………………………………………………….
i7700 ELECTRONIC CONTROL SYSTEM
…………………………………………………………………………………………………………………………………………….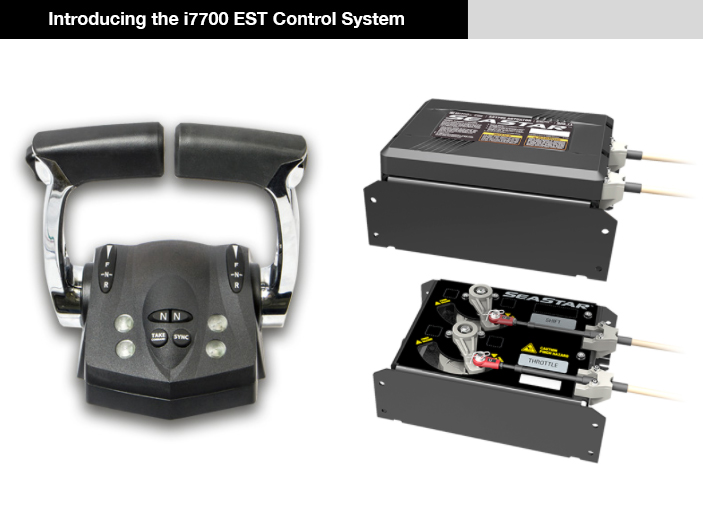 Requires EST Display setup tool for configuration (EPSK1207)
Shift and Throttle Actuators
The NEW i7700 actuator contains both the shift and throttle actuator within one compact housing and are not only powerful enough to manage the shift and throttle functions on the most extreme applications, they are also exceedingly responsive and robust. The actuators are linked to the control heads via a single 1/4" (6mm) CANbus cable making cable routing incredibly easy. In addition, the i7700 actuators have a mechanical back up "get home" feature which allows simple manual control should the need arise.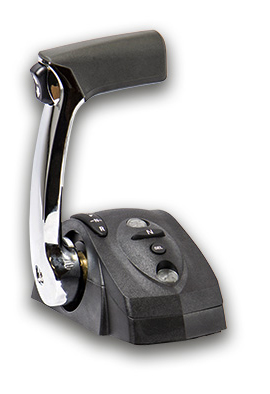 Style, Control and Functionality
The simple to install i7700 electronic control system replaces the existing mechanical control system. Why wrestle with your mechanical controls when you can have the benefits of electronic controls for a fraction of the cost of a new engine.
The smooth movement of the electronic controls enables much greater handling of the throttle and a fluid transition between gears. This translates into better control of the boat in all applications ranging from sport fishing and cruisers to commercial vessels. You will find it hard to go back to mechanical controls after the smooth and reliable response you get from the i7700 electronic controls. Regardless of the type of engine and drive, i7700 can provide precise control and comfort for your boating application.
Single Lever Operation
The ability to synchronize the engines and control cruise with one lever is incredibly useful. This feature enhances your boating experience by making it easier to control your boat regardless of the speed.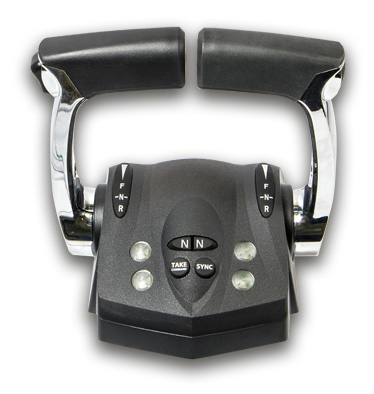 Control Head Styling
The control heads are ergonomically designed for maximum comfort and control. Available with or without universal trim switches, they each also include easily adjustable drag and detent adjustment pins to suit the operator's preference.
Applications
• Suitable for all engines with mechanical shift and mechanical throttle.
• Single or twin engine applications.
• Inboard, IO and Outboard.
• Supports up to three stations.
Features:
• Mechanical override "get home" feature
• Trolling mode
• Add a station kits available – total of 3 stations
• Meets: ABYC P-24, CE, EN 60945
• Neutral warm-up
• Dual engine RPM synchronization for single handle operation
• Incorporates neutral start protection
• Adjustable control lever drag and detent settings
• Works on 12v systems
• Programmable shift delay
• Comes with 30' of harness to connect actuators to control head
• Utilizes standard CCX633xx type control cables – Xtreme type recommended
• Optional independent trim switches (HA5491)
…………………………………………………………………………………………………………………………………………….
Rugged performance
The i7700 electronic control system combines advanced electronics with over 50 years of mechanical engine control "know-how" into a system that's the perfect enhancement to nearly any boat/engine combination. SeaStar Solutions has led the way in electronic engine control technology, and has developed their work alongside world class engine manufacturers. The i7700 is not only rugged and reliable, but is suitable for all mechanical throttle/mechanical shift applications.
…………………………………………………………………………………………………………………………………………….
Trolling Mode
Control Your Boat, Your Depth, Your Success
The trolling mode is a unique feature that is built into the control system and does not require additional components. Imagine you are trolling and trying to find that perfect speed to catch that big fish. When placing the control into trolling mode by simply selecting the mode, you now have greater resolution of the throttle from 0-50%. You no longer have to fight the controls to be at that perfect speed.
…………………………………………………………………………………………………………………………………………….
Notes:
• Control cables ordered separately.
• Requires EST Display setup tool for configuration (EPSK1207).
• Additional CAN cable lengths are available.
• Compatible with Optimus 360, Contact SeaStar Solutions for Information on upgrading.
• Please refer to i7700 Electronic Control datasheet for specifications.
Available in single or twin handle with or without universal trim. Systems kits are available based on the number of engines to be controlled and for single station applications. When a second or third station is needed, kits are available that include the parts for that 2nd or 3rd station. Connectivity is simply made via the CANbus harness. Additional stations can be added by selecting from the 'Additional Stations' list.