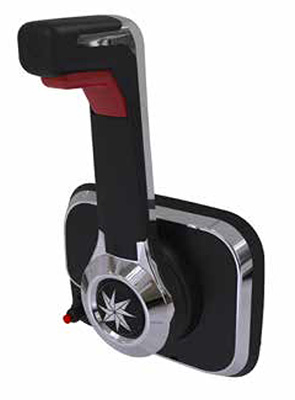 The ergonomics and features of our Xtreme controls are advanced beyond those of any other control on the market.
A shapely, balanced handle design provides an incredibly smooth yet positive feel. Neutral interlock, throttle warm-up, and start-in-gear protection features are standard on all Xtreme Side mount models, with power trim/tilt, emergency cut off switches offered as an option. In addition the cosmetics of these controls can be configured to suit many tastes on center console or Port side mounted boats.
Xtreme center console controls are suitable for use with both 3300/33C universal or OEM type control cables without adaptation at the control.
FEATURES
• All controls include start in gear protection
• Designed for use with both 3300/33C universal and OEM shift and throttle cables
• Suitable for most single engine boats
• Can be used in a dual station boat with the DS Unit
• Can be used on the port side gunwale of the boat or on the right side (starboard) of a center console
• Dual action lever (throttle and shift control on one handle)
• Neutral Interlock standard on all side mount controls
• Trim & Tilt options available
• Optional cut off switch (inboard and outboard versions)
• Drag adjustment on all models
• Easy installation and set up
• Neutral "warm up" button for throttle only operation
• Designed and assembled in the USA