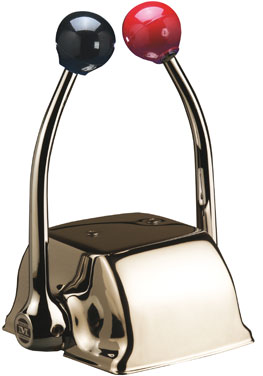 Ideal for inboards and multiple station boats, SR Twin is rugged and made with the finest marine grade materials. Removable cover enables easy access to the mechanism. Includes adjustable brakes and stops. Accepts universal control cables. Optional detent kits and neutral switch available. Additional hardware may be required for twin station use.
Features
• Polished stainless steel cover, marine grade chrome levers and rugged cast hanger plate.
• Removable cover enables easy access to the control mechanism.
• Adjustable brakes and stops.
• Optional neutral safety switch to prevent starting in gear.
• Optional shift detent kit (if used in dual stations; use on main station only).
• Uses 33 and 43 type cables.
• Mechanical advantage – shift 3.10:1/throttle 3.10:1.
• Meets/exceeds all applicable industry standards.