"SeaStar Solutions® is at it again, creating a retrofittable Optimus 360 Joystick Control System that is compatible with triple Yahama® EST controlled outboard engine configured boats."
………………………………………………………………………………………………………………………….
………………………………………………………………………………………………………………………….
Ultimate In stress free docking.
Optimus 360 by SeaStar uses state-of-the-art electronics to provide easy 360-degree maneuvering capabilities when docking, negotiating crowded areas or loading a vessel onto a trailer.  Even novice boaters using the Optimus 360 Joystick Control System can confidently move the boat forward, backwards, diagonally, rotate it on its own axis, or even move sideways to accomplish tricky docking maneuvers.  As the operator easily moves the joystick, the SmartCylinders respond instantly to independently steer each outboard, engage forward/neutral/reverse gears and apply throttle as needed to move the boat exactly where the operator wants it to go.   Read the Brochure
Steer with new confidence through crowded docking areas with ultimate control.
The patented Optimus 360 system builds on the Optimus EPS.  The Optimus EPS system replaces the traditional hydraulic steering system.  Optimus EPS truly raises the bar when it comes to comfort, control and maneuverability, especially for the new breed of high performance powerboats, saltwater fishing vessels, catamarans, RIBS and high end pontoon boats. It's unlike anything you've ever experienced when it comes to steering.  The high level of engineering also extends to the reliability of the system.  Each component has been designed to complement the other, resulting in a seamless experience of steering control in virtually every situation on the water. The high level of engineering also extends to the reliability of the system, with quality materials, careful manufacturing and redundant systems, all to stand up to the rigors of life on the water.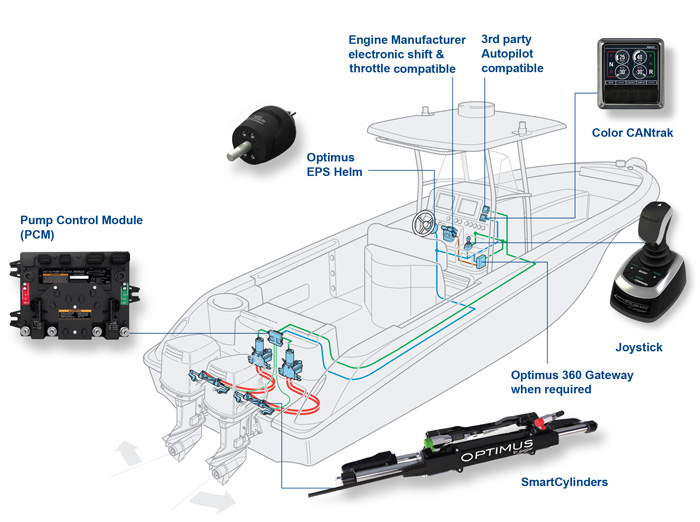 FEATURES
• Intuitive high precision joystick docking with confidence
• Seamless integration with electronic controlled engines
• Autopilot ready – just a simple connection
• Dual station compatible
• Tiebar engines (triple/quad) – less components, simple installation, less cost
• Available as a retrofit or for new engine installation
• All the benefits of Optimus EPS, including auto adjusting steering effort and steering turns lock to lock
Ultimate Intelligence.
Optimus 360 Joystick
Features
• 3 axis joystick with guided feel
• Boost mode
• Take Command Mode
Benefits
• Provides intuitive joystick docking
• Enables user to confidently control the boat fore/aft, sideways, diagonal and rotational movements
• Provides increased docking power to overcome winds/currents
• Single touch button activation transfers control to the joystick
Optimus i6800 Control Head
Features
• Full Engine Sync
• Independent adjustable lever resistance/detent
• Integrated trim control
Benefits
• Allows the user to operate with one hand control
• Customizable by user
• Ergonomically located on the control handle
Optimus i6800 Control Actuator
Features
• Independent shift and throttle actuators
• Start-In-Gear protection
Benefits
• Provides mounting location flexibility
• Reduces risk of engine damage
Optimus Electronic Helm
Features
• User adjustable helm turns and steering wheel effort
• Speed sensitive helm turns, effort and steering response
• Dual independent sensors and circuits
• Electronic helm
• Optional tilt helms available
Benefits
• Allows user to adjust steering sensitivity and resistance for maximum comfort
• Ability to adjust effort and steering sensitivity at speed
• Provides redundancy for reliable operation
• No hydraulic oil at helm
• Allows users to adjust position of steering wheel for personal comfort
Optimus SmartCylinder
Features
• Dual independent non-contact sensors and proven Seastar cylinder design
• Integrated rudder feedback unit (RFU)
• Adjustable stainless steel ORB fittings
Benefits
• Enhances system reliability and operation
• No additional RFU required for autopilot system
• Simplifies the installation and allows for easy orientation in any direction
Optimus Hydraulic Steering Pump
Features
• On demand hydraulic steering pump
• Simplified auto-purge mode
• Designed using SAE J-1171 rated motor
• Third party auto-pilot certified
Benefits
• Significantly reduces overall power consumption
• Allows user to purge system with existing components
• Meets Coast Guard requirement for ignition protection
• A separate auto-pilot pump is not required
Optimus CANtrak Display
Features
• CANtrak digital display for messaging and user interface
• Displays visual information on system status
Benefits
• Provides interface for adjusting helm turns and effort
• Dealer adjustable toe in/out and engine turning ratio
• Real-time rudder direction and RPM
Optimus Pump Control Module
Features
• Fault tolerant CAN Bus network
• Sealed, locking cable connections
• Accommodate certified 3rd party autopilot systems
• Automatic battery selector
Benefits
• Ensures system reliability and operation
• Ensures reliable cable connection protection from vibration
• No additional autopilot pump and RFU
• Ensures system operates at peak performance and allows for single engine trolling operation
………………………………………………………………………………………………………………………….
RECEIVE OPTIMUS EPS INFORMATION
To receive further information on Optimus Electronic Power Steering please fill in the form below
………………………………………………………………………………………………………………………….
AUTHORIZED INSTALLING DEALERS
Avalon Yacht & Sales


1300 W 14th St
Long Beach, CA 90813


Phone:

 (562) 495-2130


Email:

avalonyachtnboat@gmail.com
www.avalonyachtnboat.com

Bluewater Ship Store


8103 Highway 59 South
Foley, AL 36535


Phone:

 (251) 943-4179


Email:

service@bwssal.com
www.bwssal.com

Boater's Exchange


2145 U.S. 1
Rockledge, FL 32955


Phone:

 (321) 638-0090


Email:

jerry@boatersexchange.com
www.boatersexchange.com

Canyon Club Marina


900 Ocean Dr
Cape May, NJ 08204


Phone:

(609) 884-0199


Email:

service@canyonclubmarine.com
www.canyonclubmarine.com

Central Marine Services Inc.


3535 Tyrone Boulevard North
St. Petersburg, FL 33710


Phone:

(727) 347-9999


Email:

sales@centralmarineservice.com
www.centralmarineservice.com

Comstock Yacht Sales and Marina


704 Princeton Ave
Brick, NJ 08724


Phone:

(732) 899-2500


Email:

dond@comstockyachtsales.com
www.comstockyachtsales.com

Cypress Cove Boating Center


3663 Pontchartrain Drive
Slidell, LA 70458


Phone:

 (985) 643-6668


Email:

cypcove@bellsouth.net
www.cypresscove.net

Door County Marine


1651 Memorial Drive
Sturgeon Bay, WI 54235


Phone:

 (920) 883-9058


Email:

jon.kruse@doorcountymarine.com
www.doorcountymarine.com

Electronics Unlimited


3229 South Andrews Avenue
Ft. Lauderdale, FL 33316


Phone:

 (954) 467-2695


Email:

 EU@elec-unlimited.com
www.elec-unlimited.com

Eric's Outboard Marine Services Inc.


8755 SW 129th Street
Miami, FL 33176


Phone:

 (305) 251-4067


Email:

 info@ericsoutboard.com
www.ericsoutboard.com

Fort Macon Marina


4712 Arendell St
Morehead City, NC 28557


Phone:

 (252) 726-8744


Email:

 fortmaconmarina@yahoo.com
www.fortmaconmarina.com

Gulf Coast Marine Center


10121 S Padre Island Dr.
Corpus Christi, TX 78418


Phone:

(361) 937-7800


Email:

chris@gcmboats.com
www.gcmboats.com

Hanckel Marine


2445 Savannah Hwy
Charleston, SC 29414


Phone:

(843) 556-2550


Email:

ben@hanckelmarine.com
www.hanckelmarine.com

Isle of Palms Marine


14603 Beach Blvd
Jacksonville, FL 32224


Phone:

(904) 821-0992


Email:

iopms1@gmail.com
www.iopms.com

Jaws Marine


6100 Chemical Road.
Curtis Bay, MD 21226


Phone:

(410) 354-9100


Email:

johnsmith.jawsmarine@gmail.com
www.jawsmarine.net

Laser Marine


1727 Gulf Frwy (IH-45S),
LaMarque, TX 77568


Phone:

(409) 933-3474


Email:

lasermarine@sbcglobal.net
www.lasermarine.com

L&L Electronics


300 East Main Street
Branford, CT 06405


Phone:

(203)488-4814


Email:

info@llelectronics.com
www.llelectronics.com

Martek of Maryland


9917 Stephen Decatur Highway
Ocean City, MD 21842


Phone:

 (410) 213-0888


Email:

 mthompson@martekmd.com
www.martekmd.com

Mastry Engine Center


2801 Anvil Street North
St. Petersburg, FL 33710


Phone:

(800) 545-4574
Email: kcarlan@mastry.com
www.mastry.com

Midcoast Marine Electronics


532 Main Street
Rockland, ME 04841


Phone:

(888) 691-3993


Email:

 info@midcoastmarine.biz
www.midcoastmarine.biz

Mid Shore Electronics


205 Trenton Street
Cambridge, MD 21613


Phone:

 (410) 228-7335 or (800) GPS-RADAR


Email:

 sales@mid-shore-electronics.com
www.mid-shore-electronics.com

Nick's Creative Marine


1177 W. Blue Heron Blvd.
Riviera Beach, FL 33404


Phone:

(561) 844-4555
www.nickscreativemarine.com

Ocean House Marina


60 Town Dock Rd
Charlestown, RI 02813


Phone:

(401) 364-6040


Email:

 info@oceanhousemarina.com
www.oceanhousemarina.com

Outboard Specialties


2521 N Dixie Hwy
Pompano Beach, FL 33064


Phone:

(954) 942-9898


Email:

 obspec316@aol.com

Oyster Harbors Marine


122 Bridge Street
Osterville, MA 02655


Phone:

(508) 428-2017


Email:

 ron@oysterharborsmarine.com
www.oysterharborsmarine.com

Plantation Boat Mart


90400 Overseas Highway,
Tavernier, FL 33070


Phone:

(800) 539-2628


Email:

 info@plantationboat.com
www.plantationboat.com

Pompano Beach Marine Center


701 S Federal Hwy
Pompano Beach, FL 33062


Phone:

(954) 946-1450


Email:

 boatspbmc@aol.com
www.pompanoboats.com

Port Harbor Marine


1 Spring Point Dr.
South Portland, ME 04106


Phone:

(207) 767-3254


Email:

 jpeterson@portharbormarine.com
www.portharbormarine.com

Pro Marine Boat Sales


9293 Bay Pines Blvd
St. Petersburg, FL 33708


Phone:

(727) 826-0828


Email:

 chad@promarineusa.com
www.promarineusaboats.com

Rodgers Marine


3445 NE Marine Drive
Portland, OR 97211


Phone:

(503) 287-1101


Email:

 sales@rodgersmarine.com
www.rodgersmarine.com

Sea-Curity Systems


192 W Montauk Hwy
Linderhurst, NY 11757


Phone:

 (631) 226-1616


Email:

 fregan@seacuritysystems.com
www.seacuritysystems.com

Sea Tech Marine


3639 Bayshore Drive
Naples, FL 34112


Phone:

 (855) 732-8324


Email:

 service@seatech.net
www.seatech.net

Southwest Florida Marine Electronics


19190 San Carlos Blvd
Fort Myers Beach, FL 33931


Phone:

 (239) 463-3500


Email:

 tomswfmt@yahoo.com
www.electronicsmarineservice.com

Seven Seas Yacht Sales Inc.


1500 W Broward Blvd
Fort Lauderdale, FL 33312


Phone:

 (954) 463-8143


Email:

 tech2010wa1@aol.com
www.sevenseasyachtsales.com

Spellmans Marine


262 E. Montauk Hwy,
Hampton Bays, NY 11946


Phone:

 (631) 728-9200


Email:

 brian@spellmansmarine.com
www.spellmansmarine.com

Spellmans Marine


23 Rampasture Rd.
Hampton Bays, NY 11946


Phone:

 (631) 728-1341


Email:

 ernie@spellmansmarine.com
www.spellmansmarine.com

Statewide Marine Services


2 Point Rd
Waretown, NJ 08758


Phone:

 (732) 793-6730


Email:

 steve_statewidemarine@yahoo.com
www.statewidemarine.com

Striper Marina


26 Tyler Point Road,
Barrington, RI 02806


Phone:

 (401) 245-6121


Email:

 tom@stripermarina.com
www.stripermarina.com

Tuppens Marine


1002 N. Dixie Highway
Lake Worth, FL 33460


Phone:

(561) 588-3366


Email:

boatking@earthlink.net
www.tuppensmarine.com

Wefing's Marine


131 U.S. 98
Eastpoint, FL 32328


Phone:

(850)670-8100


Email:

marc@wefings.com
www.wefings.com
………………………………………………………………………………………………………………………….