Optimus EPS Inboard
Builds upon the proven Optimus core technology and components, with a new hydraulic power unit and new inboard smart cylinder.

Available

for Both Retrofit and New Engine Installations
As the captain of your vessel you know how important it is to have command of your yacht, Optimus EPS gives you the steering control, performance and comfort you expect. With Optimus EPS, you can take command of your yacht without having to arm-wrestle for control.
Active

Sensitivity
Lock-to-lock turns and wheel effort are programmed to change with engine RPM. At slow speeds, Optimus EPS can be set to reduce the number of turns lock-to-lock, for example 4 and make it easier to steer. When you're negotiating through traffic or in a tight spot, those smaller moves of the wheel give you precise control. When you're running at speed in open water, Optimus EPS can be set to increase lock-to-lock turns, for example, and increase steering effort giving the driver more stability to comfortably keep on course. And through it all, Optimus EPS does the work, so you can relax and take it easy.
Advantages

of Optimus Electronic Power Steering
Auto adjusting speed sensitive helm effort and turns lock to lock
Low and high speed dynamic rudder stop position
Position proportional rudder gain for faster steering response near neutral rudder position
Can add autopilot without adding an additional pump
3 helm capability
No more long hydraulic hose runs to the helm(s)
Open loop mode allows system to maintain steering even in the event of a complete loss of RFU signal
Twin pump configuration provides redundancy in the event of single pump failure
Twin power inputs with internal battery management system (BMS) prevents steering loss when one power source is low or lost
Multi levels of redundancy includes fault tolerant CAN network and multiple sensors built into each of the components
Comprehensive system status and fault indication
Supports 12V / 24V DC systems
NMEA 2000 Certified. Meets or exceeds NMMA, ABYC, CE, ISO and SAE electrical and environmental requirements
Applications

for Optimus EPS Inboard
Most single and twin inboard engine boats – electronic and mechanical controlled
Single, twin and triple helm station yachts
Performance motor yachts, express convertibles, and sport yachts
Technology

Behind The System
The incredible feel you get when you're behind the wheel of a boat equipped with Optimus EPS is the result of an innovative array of technology and engineering. Each component has been designed to complement the other, resulting in a seamless experience of steering control in virtually every situation on the water. The high level of engineering also extends to the reliability of the system, with quality materials, careful manufacturing and redundant systems, all to stand up to the rigors of life on the water.
System

Components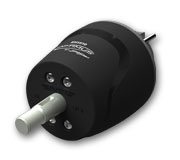 Features
•

Adjustable helm turns and steering wheel effort
•

Speed sensitive helm turns, effort and response
•

Dual independent sensors and circuits
•

Electronic helm
•

Optional tilt helms available
Benefits
•

Adjustable steering for maximum comfort
•

Adjustable effort and steering sensitivity at speed
•

Provides redundancy for reliable operation
•

No hydraulic oil at helm
•

Adjustable steering wheel position
Receive Optimus EPS Information
To receive further information on Optimus Electronic Power Steering please fill in and send the form below