Whether it's for a runabout, bass boat, or center console fishing boat, Sierra is dedicated to producing the best performing, most reliable filters in the world.
RACOR® STYLE FUEL FILTERS & REPLACEMENT ELEMENTS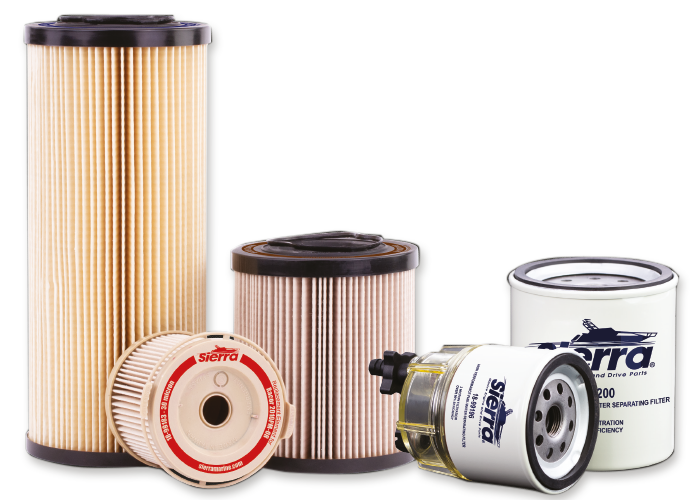 Turbine Series
• Filters offer lift tabs on top of the caps for easy installation and removal.
• Media is SAE approved.
• Remove 99% of particles per ISO 19438.
• All Sierra filters are designed to meet or EXCEED your engine manufacturers' requirements.
Matches OE letter color code:
Red = 30 microns Blue = 10 microns Brown = 2 microns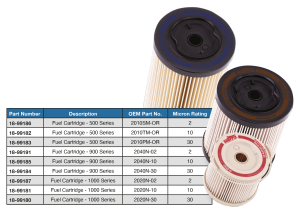 Spin on Filters
• 2, 10, 30 Micron Filter offerings.
• Filters water to be drained from the bowl to extend service life of the filter.
• 10 Micron gas filters offer 90 GPH to feed the hungriest of motors.
• All filters include bowl O-rings.
• Prevents engine damage such as fowled injectors and increases the life of downstream filters.
• Filters 99% of particles per ISO 19438.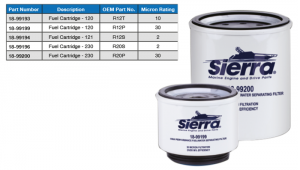 Replacement Bowls
……………………………………………………………………………………………………………
AIR FILTERS
Today's high tech engines require precise amounts of fuel, oil and air to operate at peak performance. Older carbureted engines did not use air filters because the environment they ran in was considered "clean" enough that none were required. However today's fuel injected and computer controlled engines monitor every aspect of engine operation. That "clean" air is no longer clean enough.
Air filters have become more prevalent on today's outboard engines, and Sierra offers OEM quality replacement filters that meet or exceed the OEM for those needs. Sierra outboard and diesel air filters are designed and tested for the marine environment, and just like everything we do, they are backed by the best warranty in the marine business. Sierra's Limited Lifetime Warranty!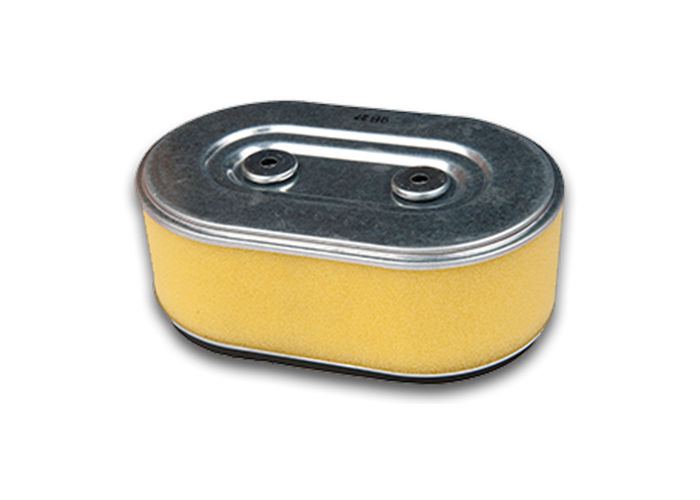 ……………………………………………………………………………………………………………
FUEL FILTERS
Sierra is the industry leader in 10-micron technology. Sierra filters not only protect your engine, they are over 90% efficient at removing engine damaging 10-micron and larger particles without starving the engine for fuel. Don't be fooled by other 10-micron imitators that don't list their efficiency. Sierra filters are independently lab tested and approved.
Sierra offers the widest selection of OEM direct replacement fuel filters on the market. Sierra supplies OEM manufacturers with patented fuel filter technology. Sierra offers a full line of cartridge, canister and inline filters to fit just about every engine in the marine market.
If it powers your boat, chances are we have a filter to protect it. Install with confidence and know you are backed by the Sierra Industry Leading Warranty, which pays for parts and labor and incidental damage.

……………………………………………………………………………………………………………
CANISTER FUEL FILTERS
Many of today's high-tech engines require proper fuel system maintenance to operate efficiently. Sierra is a leader in the marine industry for fuel system parts and filters. Sierra is not only the largest aftermarket supplier of marine parts, but Sierra also supplies to the OEM engine manufacturers. Sierra canister fuel filters are designed to be an exact fit and performance replacement to your current OEM canister filter.
Sierra offers an extensive line of 21-micron filters and is an industry leader in 10-micron filter technology. Sierra canister filters are tested to meet ISO, SAE and JIS standards. Sierra 10-micron filters are over 90% efficient at removing dirt and debris from your fuel system while not starving the engine for fuel.
Don't be fooled by other 10-micron filters that don't specify efficiency. Any filter can catch some 10-micron particles, but how many of the engine damaging particles do they let through?  The Sierra 18-7866 fuel filter is manufactured with a patent-pending design and is endorsed for use on Yamaha HPDI engines.
……………………………………………………………………………………………………………
INLINE FUEL FILTERS
Sierra offers the largest selection of inline and cartridge fuel filters to meet the specific requirements of your engine. Direct replacement OEM filters mean you can install with confidence and know that the Sierra's industry leading warranty backs each filter.
Sierra filters undergo extensive testing in real world situations and that's why professional technicians and do-it-yourselfers around the world choose Sierra filters to protect their engine. Sierra inline and cartridge filters are tested and approved for ethanol-based fuels and meet the demands of today's high tech-high performance engines.


FUEL FILTER KITS
Don't have a water separating fuel filter? Well, Sierra offers the largest selection of fuel filter kits to meet the needs of most boaters. 10-micron ethanol approved fuel kits to keep today's high tech engines running strong.
Stainless steel filter heads for salt and brackish water conditions. Aqua-Vu above deck drainable bowl kits make inspection and draining of water easy and convenient. Metal drainable bowls offer the same water draining abilities as their clear bowl counterparts, but are fire tested and designed specifically for installation below deck.
Sierra canister kits come complete with brass plugs to allow easy flow-thru or one-sided in/out installation. Bonus filter kits give you an extra spare filter for piece of mind and security. All Sierra filters and brackets are designed to meet or exceed OEM specifications and in many cases Sierra is the OEM supplier to boat and engine builders worldwide.

……………………………………………………………………………………………………………
OIL FILTERS
Since 1966 Sierra has been a pioneer in the field of oil filtration. We are committed to providing your boat with the very best in engine protection with premium, application-specific oil filters. Our dedication is backed by substantial, ongoing research in filtration media, filter design and manufacturing processes.
As a result, Sierra oil filter designs represent the very best of what we have learned after decades of research and development. No matter what type of boat you drive Sierra has you covered.
OIL FILTERS OVERVIEW
Specifically designed to match the OEM filter.
Anti-drain back valves help prevent dry-starts.
Epoxy coated steel canister prevents corrosion and allows for easy installation and removal.
Designed for the marine environment.
Meets or exceeds OEM filtration requirements.
Backed by Sierra Limited Lifetime Warranty.
We pay parts, labor and incidentals (see warranty)
Wide selection of filters for inboards, diesel and outboard engines.