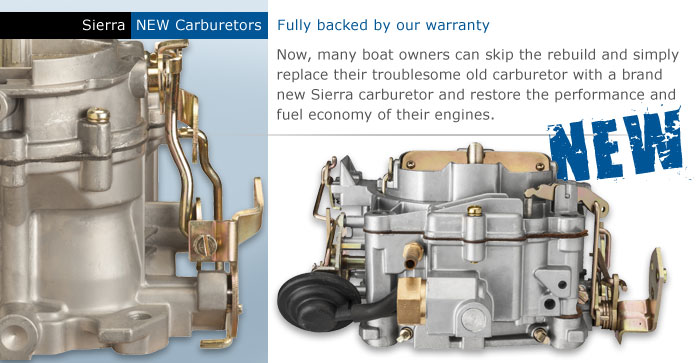 BRAND NEW SIERRA CARBURETORS
These new carburetors from Sierra are built to original factory specs, and are not rebuilt or remanufactured products. Housings are cast from corrosion-resistant aluminum and machined using Sierra's own specially-engineered tooling. Components are anodized and carefully assembled to provide season after season of reliable performance.
New Sierra carburetors are available in popular MerCarb® 2-barrel and Rochester® QuadraJet® 4-barrel models. (The new Sierra QuadraJet 4-barrel carburetor is the first all-new carburetor of this type available to boaters since the 1980s.) Additional models will be available for other engines in 2013. Like all Sierra engine and drive parts, these new carburetors are covered by Sierra's limited lifetime warranty. With Sierra's new carburetors, boaters can easily replace the old carburetor and once again enjoy the original performance of their boats and motors.
…………………………………………………………………………………………………………………………………….
USEFUL CARBURETOR LINKS
• View 360 Carburetor Rotation
• Carburetor Application Guide
• Gas Saving Tips
• Carburetor FAQ's
• Core Policy
…………………………………………………………………………………………………………………………………….