………………………………………………………………………………………………………………………………………….
………………………………………………………………………………………………………………………………………….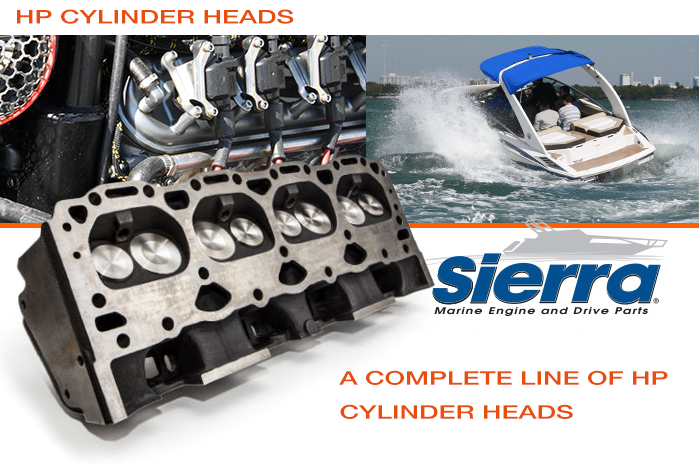 INCREASED HORSEPOWER
Sierra has a complete line of HP cylinder heads. These cast-iron cylinder heads are designed as direct bolt-on replacements. They feature a thicker deck for greater strength and superior port finish for increased horsepower. A 25 point quality check is performed on every cylinder head to ensure the best quality. Available for all popular GM small block and big-block applications.
STOCK REPLACEMENT CYLINDER HEADS
Dealers no longer have to spend valuable time or resources to rebuild old, worn out engine cylinder head assemblies. They can replace their old or damaged cylinder heads with Sierra's complete lineup of stock-replacement cylinder heads. All cylinder heads have the following features:
• All new high-grade cast iron castings with thicker deck surface, results in greater overall strength
• and resistance to warping or cracking.
• Hardened exhaust seats for compatability with all fuel types and ethanol levels.
• Machined deck surfaces to promote proper head gasket sealing.
• Three angle valve finish for superior air and exhaust flow.
• Hand assembled for exacting fit and finish.
• Assemblies utilize exact OE components for proper operation for the engine style and types they
• are designed to replace.
Including:
• Valve springs for proper valve pressure both open and close
• Positive seals to eliminate any oil consumption in the valve guides
• Retainers and locks for proper valve spring seating and retention
• Available for all popular GM 4 cyl, V-6 and V-8 applications.
………………………………………………………………………………………………………………………………………….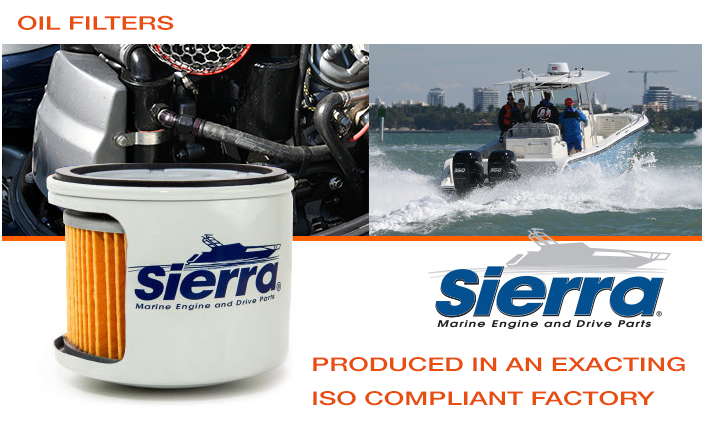 DESIGNED FOR PERFORMANCE
Sierra's lineup of four stroke oil filters have been designed to meet the unique requirements of modern four-stroke recreational engines. Since recreational marine engines are used in extreme operational and environmental conditions; the properly designed oil filter is required for proper engine performance and longevity.
Produced in an exacting ISO compliant facility, Sierra's oil filters excel by:
• Most comprehensive lineup of oil filters in the marine industry, covering applications from the
• smallest outboard to the large diesel engines.
• Complete lineup of generator oil filters to make servicing larger vessels a one-stop process.
• Constructed for reliability and performance:
• Thick steel canister for added strength under fluctuating pressure conditions.
• Wound steel tension spring to ensure the filter media's sealing integrity.
• Steel end caps to maintain media dimensional integrity over the filters service life.
• Media material selected to provide a balance between efficiency and flow for excellent engine
– protection and prevent oil starvation during use.
• Wrapped center tube to provide additional media strength.
• End cap and sealing ring designed to keep the filter properly mounted and sealed to the engine.
• Proper pressure relief and anti-drainback valves installed where required to meet promote
– engine longevity and provide start up protection.
• Lineup of spin-on filters augmented by additional application of cartridge style filters that have been
• rising in OEM popularity and use.
………………………………………………………………………………………………………………………………………….
TIMING BELTS
Sierra Timing Belts provide extended durability and smoother performance characteristics required by today's marine engines.
FEATURES
• Neoprene or Nitrile construction for maximum durability based on application.
• Positive slip proof engagement.
• Fiberglass tension member for excellent flex and elongation behavior.
• Chemical and contaminant resistance for long life.
• Meets or exceeds OEM belt specifications.
• Modified curvilinear tooth or trapezoidal tooth profile for direct OE fitment/ replacement.
• Recommended periodic maintenance interval of 5 years or 100 hours of use.
• Inexpensive insurance to prevent catastrophic engine failure.