Sierra Timing Belts provide extended durability and smoother performance characteristics required by today's marine engines.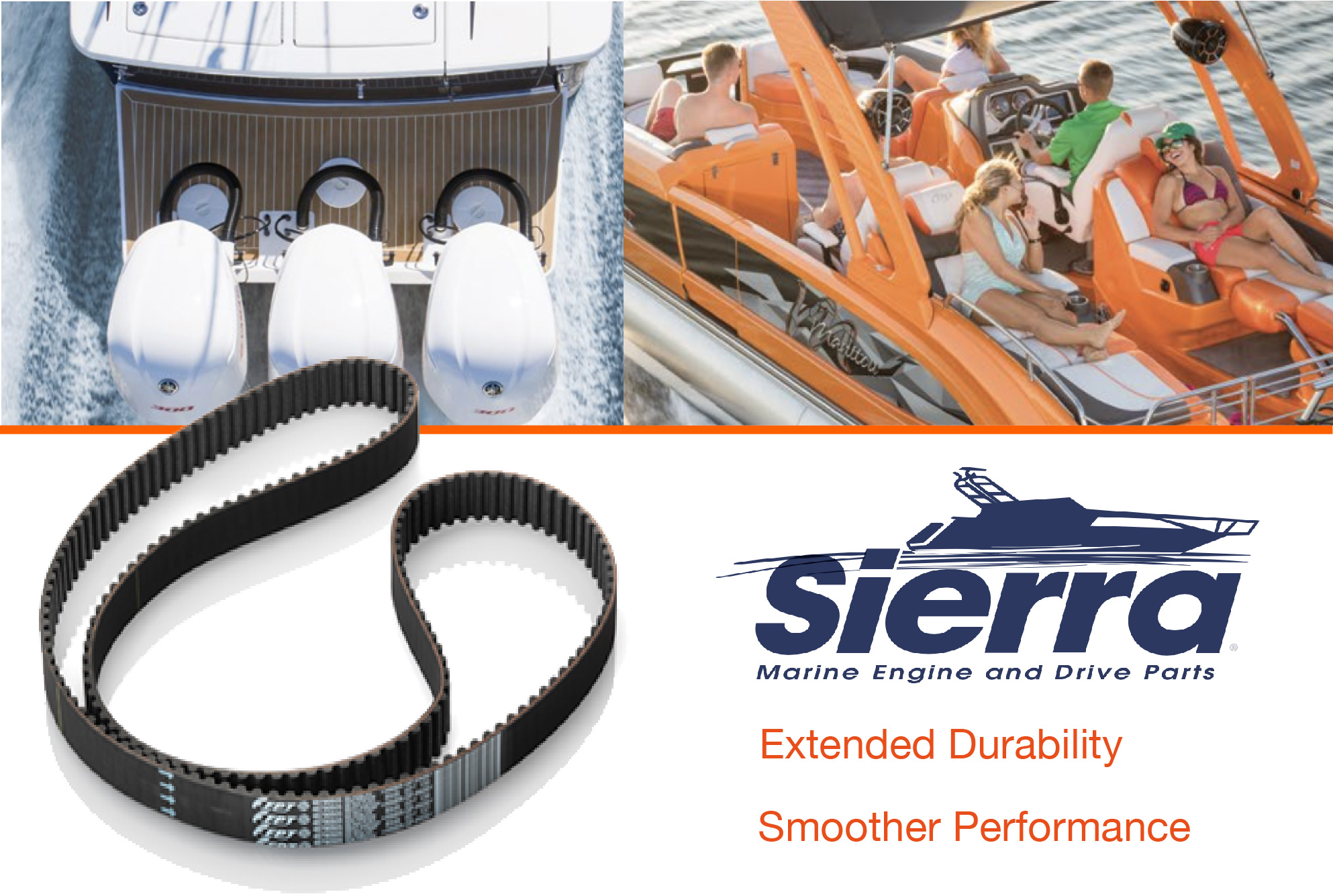 EXPECTED BELT LIFE
Today's belts operate under heavier loads and are exposed to many factors that may cause premature failure, including: heat and temperature fluctuations, water, dirt, grease, oil and other environmental contaminants.
In addition, hotter running engines put more stress on belts and components. Idling time also takes a major toll on belt life. The engine runs hotter, and belts can break down much more rapidly in a car exposed to sustained periods of stop and go driving.
OEM REPLACEMENT INTERVALS
Whether your customer's boat utilizes a free-running or interference engine, timing belt failures can be avoided by adhering to the OEM recommended replacement intervals and preventative maintenance.
HNBR (or HSN) ELASTOMERIC COMPOUND
• Forms the main body of the belt
• Formulated for better heat resistance and durability • Wide temperature range (~104o F to 284o F)
• Crack resistant
HIGH-STRENGTH TENSILE CORD
• Designed for high-tension applications
• Normally S- and Z-twisted to prevent "tracking" • High exibility
• Heat resistant
• Fatigue resistant
IMPROVED TOOTH JACKET
• Engineered for improved wear resistance • Abrasion resistant
• Heat resistant
• Fatigue resistant
FEATURES
• Neoprene or Nitrile construction for maximum durability based on application.
• Positive slip proof engagement.
• Fiberglass tension member for excellent ex and elongation behavior.
• Chemical and contaminant resistance for long life.
• Meets or exceeds OEM belt specifcations.
• Modified curvilinear tooth or trapezoidal tooth for direct OE treatment/ replacement.
• Recommended periodic maintenance interval of 5 years or 100 hours of use.
• Inexpensive insurance to prevent catastrophic engine failure.