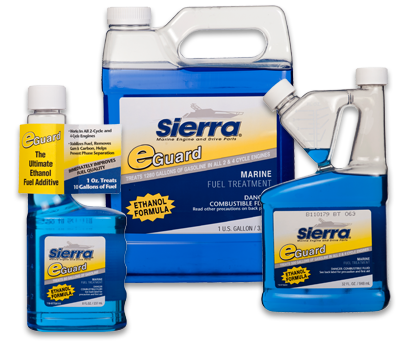 Sierra eGuard is a multi-function fuel additive that is specifically formulated to solve the problems caused by ethanol-blended fuels from E5 to E85. eGuard prevents the gum deposits that can clog carburetors and injectors.
It will also remove any existing gum or carbon buildup by breaking these deposits apart so that they can be burned off with the fuel. eGuard significantly enhances the combustibility of fuel so that it burns more completely than untreated fuel.  The result is improved engine power, performance and fuel economy while also avoiding the formation of carbon deposits. Engines are more reliable, start easily and run smoothly. Because engines stay clean, maintenance is decreased as well.
eGuard treats the water that is attracted to ethanol fuel by dispersing it throughout the fuel. These small particles are then vaporized in the combustion chamber without affecting the performance of the fuel or engine performance.
By removing water the chances of phase separation can be greatly reduced. eGuard also keeps fuel fresh for a year, making it ideal for stored fuel or for use in boats that are placed into long-term seasonal storage. It will even improve the octane of old, stale fuel. eGuard works in all sizes and types of gas-powered engines.
FEATURES
• Specifically formulated for use in all blends of ethanol fuel
• Slows phase separation by dispersing water attracted to ethanol
• Removes and prevents gum and carbon deposits
• Improves engine performance and fuel economy
• Restores octane to older, stale fuel
• Stabilizes stored fuel
• Works in all gas engines: 2-stroke, 4-stroke
• 1 ounce treats 10 gallons of fuel
• Compatible with all other additives

…………………………………………………………………………………………………………………………………….