…………………………………………………………………………………………………………………………………….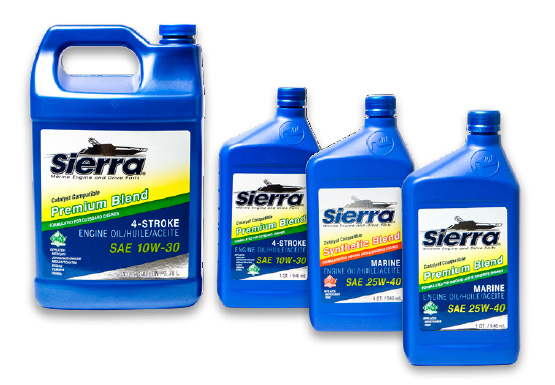 OVERVIEW
Sierra NMMA FC-W Catalyst Compatible Oils have been specifically designed to meet the unique requirements of modern four-stroke recreational engines with or without emission catalyst systems. Since recreational engines are often used in extreme operational and environmental conditions; robust oil is required to provide adequate protection.
Utilizing premium base stocks and industry leading additive technology, Sierra Catalyst Compatible Oils excel by:
• Providing industry leading wear protection and deposit control for engine longevity.
• Minimizing corrosion that is formed inside the engine from infrequent use and environmental contamination including water.
• Displaying enhanced detergent and dispersants properties to suspend and prevent engine sludge formation.
• Reducing engine friction in order to maintain high performance power
• Utilizing high quality base stocks to prevent thermal and oxidative breakdown
• Employing highly shear stable viscosity stabilizers to prevent excessive thinning under extreme performance operations.
• Capitalizing on advanced highly thermally stable "ZDDP" anti-wear additive technology to prevent phosphorus depletion and extend the emission catalyst life while still providing excellent anti-wear protection.
APPLICATION
Sierra NMMA FC-W Catalyst Compatible Motor Oils are high performance engine oils for four-stroke recreational vehicles requiring the National Marine Manufacturers Association's (NMMA) FC-W and FC-W Catalyst Compatible specification. Additionally, Sierra NMMA FC-W Catalyst Compatible Motor Oils also meet the performance properties set forth by the American Petroleum Institute's
(API) SM service category.
…………………………………………………………………………………………………………………………………….