10W-30 4 Stroke Marine Outboard Engine Oil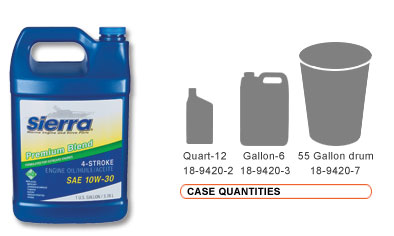 Overview
10W-30 4 cycle oil is a highly refined petroleum product formulated with premium base stock and highly refined additives. Specifically formulated to meet or exceed the tough requirements of the Marine 4-Stroke motor manufacturers, Mercury, Yamaha, Johnson-Evinrude, Suzuki and Honda.
• Excellent anti-wear characteristics.
• Reduces friction.
• Formulated to offer maximum corrosion protection.
• Reduces sludge keeps engine cleaner for better efficiency.
• Low temperature viscosity offers better cold starting.
• Meets and exceeds quality performance API SJ, CF-2, CH-4
• Guaranteed and backed by our famous Sierra comprehensive warranty. (Will not void your engine manufacturer's warranty).
…………………………………………………………………………………………………………………………………….
25W-40 Synthetic Blend Engine Oil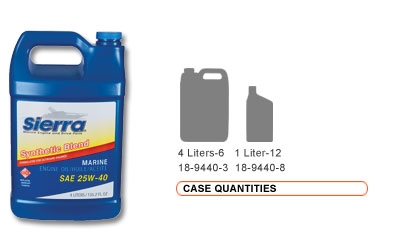 Overview
This oil is blended with premium grade synthetic and mineral based stock combined with superior designed additives formulated for the extreme rigors of the marine environment.
• Superior corrosion protection.
• Advanced lubrication for reduction of wear to internal engine components.
• Minimized piston ring deposits.
• Extensively tested for outstanding performance.
…………………………………………………………………………………………………………………………………….
Sierra "Blue" Premium TC-W3 2-Cycle Engine Oil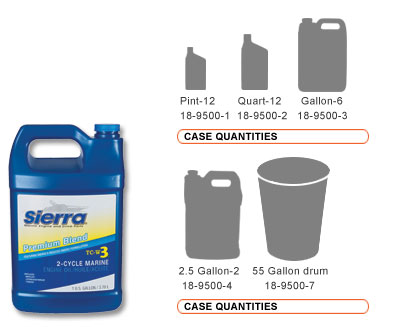 Overview
Sierra TC-W3 is a high performance lubricant that has been manufactured and designed to meet and exceed all (Domestic & Import) engine manufacturers warranties. Exceeds JASO, ISO, API and NMMA, for advanced generation 2 cycle lubricants.
• Ideal for oil injection systems or pre-mix applications.
• Optimum burnability for smokeless combustion. Runs cleaner, burns cleaner.
• Significantly reduced aquatic toxicity to fish compared to other outboard oils on the market today.
• Maximum lubrication and detergency allows engine to run smoother and more efficiently.
• Reduces ring sticking, deposit formation and exhaust port blockage. Less friction allowing for easier starting.
• Formulated to improve performance and extend engine life by reducing wear on critical engine components.
• Ideal for today's high horsepower outboards that demand maximum performance.
• Excellent performance with lower quality fuels.
• Exceeds the industry standards established in 1997.
• Graduated bottle and mixing ratio chart simplify pre-mixing.
• Formulated for all PWC (Personal Water Craft), power equipment, and marine applications where TC-W3 is required.
• Guaranteed and backed by our famous Sierra comprehensive warranty. (Will not void your engine manufacturer's warranty).
• When looking for the best. . . look no further than Sierra "Blue" Premium TC-W3!
…………………………………………………………………………………………………………………………………….
Direct Injection TC-W3

Overview
Sierra Direct Injection TC-W3 has been specifically designed to meet the needs of today's high-tech direct injected engines like Mercury Optimax®, Yamaha HPDI® and Johnson/Evinrude Ficht® and DI motors.  Sierra's Direct Injection is a semi-synthetic oil that will protect your engine in the most demanding marine conditions.
…………………………………………………………………………………………………………………………………….
Full Synthetic TC-W3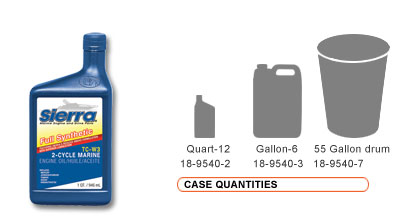 Overview
Sierra Full Synthetic TC-W3 has been designed for use in all outboards including Johnson/Evinrude E-Tec®. So when you want the ultimate protection for your engine, Sierra Full Synthetic is there to handle the job.
…………………………………………………………………………………………………………………………………….
Synthetic Oil 10W30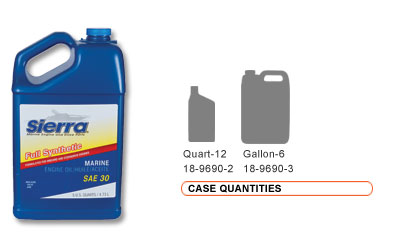 Overview
Formulated specifically for 4-stroke outboard and sterndrive engine technology. A special blend of synthetic base oil and a balanced additive system that exceeds the FC-W requirements for marine engine oils. Recommended for use in both outboard and sterndrive applications. Offers faster lubrication at start up in low temperatures, excellent protection at high temperatures, and greater resistance to oxidation for lower oil consumption.