What Is Rotational Molding?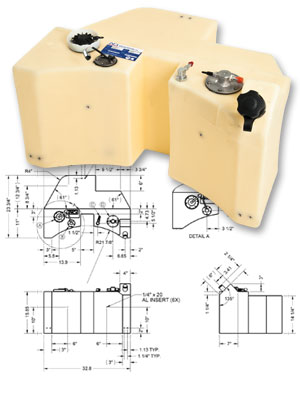 Rotational plastic molding is an extremely versatile and economic process that relies on gravity and heat to produce parts with exceptional strength. The finished result is a stress-free, lightweight and seamless design that is very durable.
A variety of plastic resins are available to use, depending upon the product specifications, strength requirements and resistance to other substances required. Materials that may be selected include polyethylene, nylon, polycarbonate, polypropylene, polyvinylchloride (PVC) and custom formulated compounds,
The flexibility of Inca's process allows for a wide range of shapes and sizes to be manufactured. They company also offers products in a wide range of colors, with graphics molded directly into the part.
Steps in the rotational molding process:
1. After the type of resin is selected, a premeasured amount of plastic resin is placed into a mold.
2. The resin melts and fuses in a three-stage process. After the resin is loaded into a mold, the mold is inserted into an oven and rotated on two axes at low speed until the resin coats the inside surface of the mold cavity, fusing into an excellent uniform wall thickness.
3. While still rotating, the mold is removed from the oven and is cooled gradually.
4. The rotation ends when it reaches the temperature that the part can be safely removed from the mold.
The Inca manufacturing facility operates five rotomolding machines, and with its own in-house tooling department, has the ability to build, repair and modify fabricated molds in-house. Inca can handle products and shipments internationally, as well as nationwide.
…………………………………………………………………………………………………………………………………………….
WHY USE ROTATIONAL MOLDING?
Many advantages make rotational molding the best choice. One of the greatest advantages is the reduced cost of tooling. The cost of having a mold built for rotomolding is significantly less than for most other plastics processes.
Molds can be machined, cast or fabricated from materials such as stainless steel or aluminum. Cast and machined molds are best when exacting tolerances or cosmetic finishes are important to the finished product. Cast molds offer a wide range of finishes from wood grain to a mirror finish. Fabricated molds are more economical than cast or machined molds, but offer less options for finish.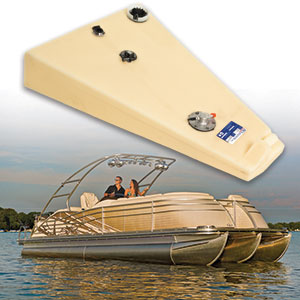 Other benefits of rotational molding include:
• Design flexibility to meet specifications
• One-piece seamless construction
• Metal inserts and fittings as integral parts
• Uniform wall thickness
• Resistance to corrosion
• Ribs and cones for stiffening
• Variety of colors and finishes
• Lightweight
• Excellent load-bearing properties
• U.V. resistance
• Molded-in graphics, such as logos, and embossing
• Product longevity
…………………………………………………………………………………………………………………………………………….
ROTATIONALLY MOLDED PLASTIC FUEL TANK vs. METAL FUEL TANK
Plastic has many advantages over metal when used to create fuel tanks and other components:
• Lighter weight than most metal
(Plastic fuel tanks are 30% lighter than comparable metal tanks, also contributing to greater fuel efficiency for the product.)
• More durable
– One-piece seamless design is virtually indestructible. (Seamed metal tanks can fracture and leak.)
– Greater impact strength provided.
– Material cannot rust.
– Plastic resists corrosion and damage from fuel additives.
– Longer life span ensured.
• Nonexplosive and safer than metal (A metal tank can explode when it catches on fire.)
• Better compartment space utilization (The shape or design of the product is less restricted by the material, so the plastic can conform easily to the shape required for the product and space availability. This feature saves on cost, size and weight of the component.)
• More convenient (Installation can be easier.)
• Material transparency (Use of translucent plastic allow content visibility, such as content level in a tank or gauge.)
• Low cost of material and production
…………………………………………………………………………………………………………………………………………….