Introduction
The SeaStar helm pump is the heart of the hydraulic steering system.
SeaStar helm pumps are the product of many years of research and experience by the world's foremost builder of manual hydraulic steering systems. Our efforts have resulted in a design which represents the ultimate in efficiency, safety and reliability, yet is easy to install and maintain. Superior design, teamed with the finest materials, precision manufacturing and rigid quality control all add up to an outstanding product which is certain to set industry standards for years to come.
Features of SeaStar Helm Pumps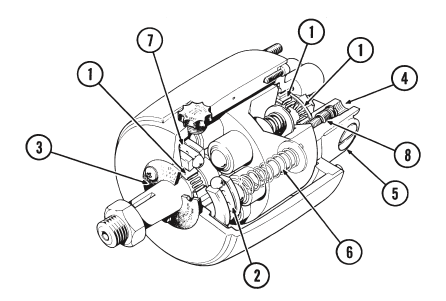 1 Helm rotor supported by three roller bearings.
2 Ball bearing piston race.
3 Field replaceable shaft seal.
4 5 ORB ports.
5 Built-in lock valve for positive rudder lock.
6 Patented bleed tubes.
7 Internal air pocket eliminates oil expansion over flow.
8 Integral relief valve.