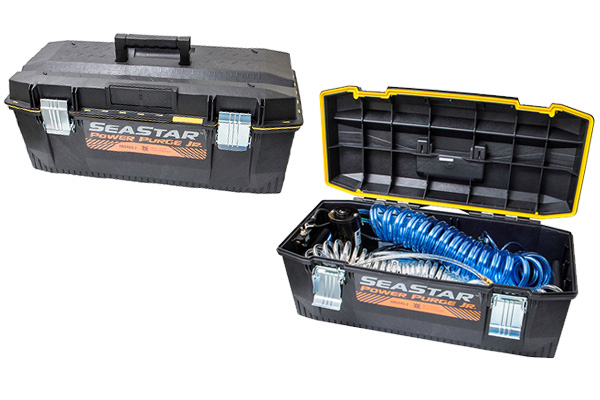 INTRODUCTION
The EASY way to 100% purge air out of BayStar and SeaStar hydraulic steering systems.
The Power Purge Jr. reduces installation and warranty costs while enhancing the quality of the
boat to the end user. A typical manual fill and purge takes the average experienced installer or service
technician about 30 minutes per boat — by using the Power Purge Jr. this can be reduced to 10
minutes or less.
Features
• Steering feel is solid every time.
• 100% portable.
• Powered by 12v battery.
• Fast and efficient set up.
• Quick connect fittings.
• Easy to operate
• Filter screens help keep contamination out of your steering system
• Complete Fill & Purge in 10 minutes or less
• Optional Dual Cylinder Purging Kit HA5461 available

How To Purge a System With Power Purge Jr.