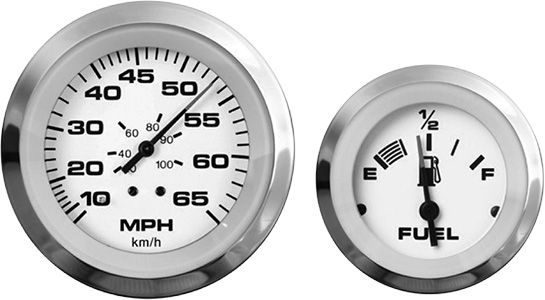 Lido Pro
We have added a selection of fog resistant gauges to our hottest white dial line. Lido Pro features a crisp, white dial with a re orange pointer tip. Red through-dial and white perimeter lighting provide great night readability. Coverage for popular OB and I/O applications – complete gauge kits available **.
Features
• White dial, black numerals, black pointer with re-orange tip.
• Scratch resistant curved glass lenses, with polished stainless steel, near- ush bezels.
• U.S. and metric scales, with ISO symbols.
• Optional add-on eyebrow or square bezels available (See Gauge Accessories for details).
• White perimeter and red thru-dial lighting.
For Resistant Gauge Features
• Fog-Resistant Design! Complies with SAE J-1810.