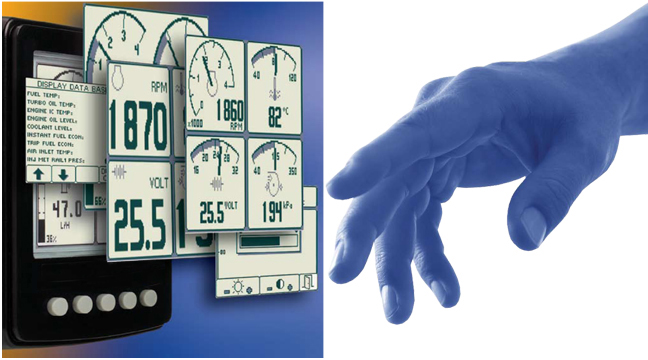 Generic Engine Monitoring for J1939/J1587 Engines (Displays No Longer Available and will be discontinued)
View Notice and Information Here

Generic Engine Monitor (GEM) CANtrak displays transmitted J1939 and J1587 engine and transmission data, active and stored alarms where supported, plus is a trip and fuel computer. The GEM application runs on the renowned CANtrak 7200/7210 robust industrial graphical displays. The GEM offers user selectable icon based display layouts as well as including a comprehensive multi language text based fault warning and acknowledgement system.
Key Features
• Enhanced Fuel Computer Operation
• SAE J1587 Legacy Protocol added
• Tri-Screen now is configurable – similar to the Quad-Screens
• Configuration Menu now has optional PIN – Personal Identification Number to lock other users out from making Config Menu changes
• Quad-Screens can now be "locked" to prevent unauthorised changes
• SAE 1939 Source Addressing has greater configurability
• Service Interval counter/display can now be disabled
• The DM1 message – "No Active Faults" no longer triggers an alarm
• Many new parameters added
Features
• Plug-and-go solution for the display of J1939 and J1587-transmitted engine and transmission data.
• Compatible with most diesel engines and transmissions.
• Large sunlight readable graphical display, 160 x 128 pixels.
• Adjustable contrast and backlight.
• ISO and SAE standard icons are used for the parameters
• Menu and text based alarm systems are in multiple languages.
• Soft function tactile and audible push-keys.
• Flexible display options: multi-window screens, with analogue gauge, digital text or graphs.
• Data is available in several formats and measurement units.
• Comprehensive fuel management and trip computer facilities.
• Engine and transmission fault data is handled by a user warning and acknowledgement system.
• Automatic last screen store and a keyboard lock.
• A number of Engineering screens are available such as Comms and Message Database Viewers.
• Alarm data and engine source filtering are user selectable. If supported by the ECU engine configuration data can be viewed.
• Users are able to specify the engine service interval prompt and also the fuel tank capacity for fuel and distance to empty calculations.
• Front cover (optional).
• Electrical connection to data and power lines is via a sealed Deutsch 12 way connector.