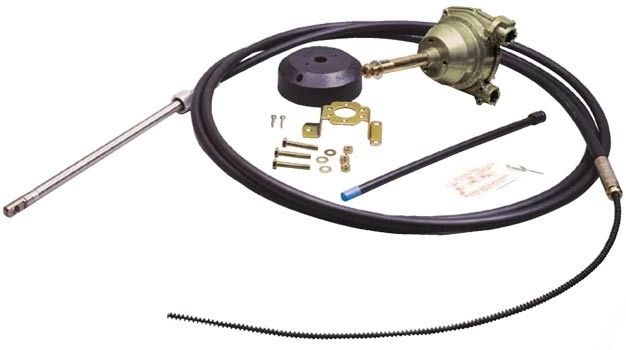 HPS™ Rotary High Performance Steering by SeaStar Solutions is the best 3-turn way to steer a power-assisted sterndrive and jet boats. Designed for power-steered boats, HPS reduces backlash (free-play at the wheel) associated with power steered boats by up to 50%!
APPLICATIONS
HPS™ Rotary is ideal for all power-assisted sterndrives that can accept a mechanical steering cable.
Also Suitable for Jet boats that require rotary steering.
It replaces standard current generation Safe-T® steering without dash modifications and most other rotary steering systems with minimal dash modifications.
HPS Rotary is available in single cable configuration and is for single station use only. It accepts wheels up to 16" diameter.
Features
• Designed for boats with power-assisted steering.
• Unique 3-turn helm with planetary gears and coated helical steering cable combine to deliver a compact helm with incredible response and minimal lost motion.
• HPS Rotary helms fit standard SeaStar Solutions dash cutouts: either Safe-T/ Rotary
• Compact helm takes up little room behind the dash.
• Designed to handle normal steering loads.
• Standard 3/4" tapered steering shaft.
• Stainless steel cable output ends.
• Fast, easy installation.
• Meets A.B.Y.C. standards.
• Meets N.M.M.A. certification requirements.