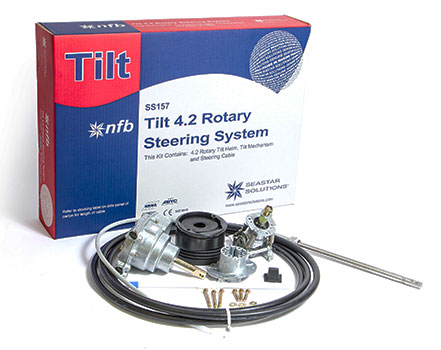 Patented No FeedBack Control — PLUS THE WORLD'S MOST POPULAR TILT STEERING! You get Tilt Steering, the advantage of 4.2 turns lock-to-lock and our patented No FeedBack steering to lock out steering loads! SeaStar Solutions®'s 4.2 Rotary NFB Tilt Kit puts all the latest mechanical steering technology in one box!
APPLICATIONS
NFB 4.2 Tilt single-cable systems are suitable for most single-station boats with a single non-power-assisted outboard or stern drive engines up to V-6 and minimal engine flutter or steering instability. 4.2 Tilt accepts wheels up to 16" diameter.
Drop-in replacement for all current generation SeaStar Solutions® Tilt Steering with no dash modification — and replace other rotary steering systems with minimal dash modifications.
Features
• SeaStar Solutions® Tilt Steering with 48° of total adjustment in five 12° positions
• Patented NFB (No FeedBack™)
• Comfortable 4.2 turns from lock-to-lock
• Minimal clutch free play
• Standard 3/4" round tapered steering wheel shaft
• Stainless steel cable output ends
• Fast, easy installation: uses SeaStar Solutions® Quick Connect (QC) steering cable
• Meets A.B.Y.C. standards
• Meets N.M.M.A. certification requirements