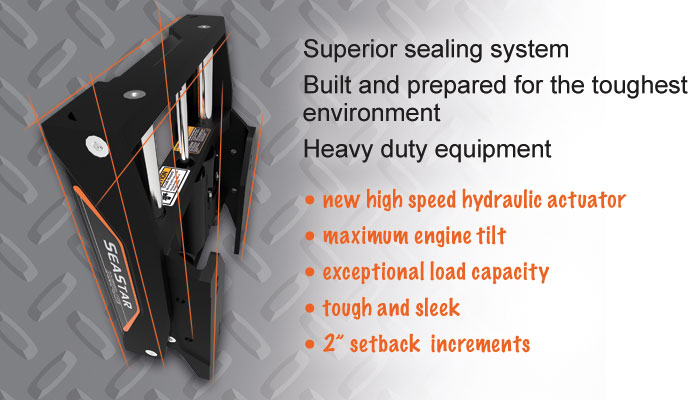 SEASTAR HD JACKPLATES
SEASTAR JACKPLATES
SEASTAR MANUAL JACKPLATES
JACKPLATES ACCESSORIES
ORDER INFORMATION
SEASTAR JACKPLATE FAQ
SEASTAR JACKPLATE HORSEPOWER APPLICATION GUIDE*Non HD Jackplates rated to 625lbs engine weight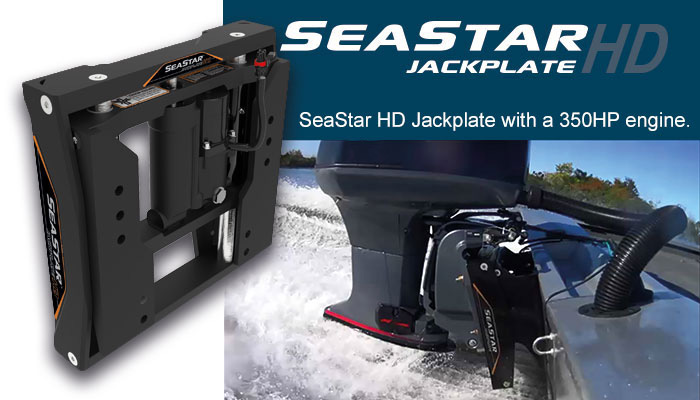 The SeaStar HD Jackplates utilize high strength materials to be able to handle some of the strongest engines on the water. The heavy duty frames are capable of handling four stroke engines rated to 350 HP. Designed with speed and durability in mind the HD Jackplate can adjust the engine height by 5.8" in just 8.5 seconds, even while the boat is moving at full power.
FEATURES

HD Jackplate is using high strength materials and is easily capable of handling 350 horse power four stroke engines.

Rapid hydraulic response in 8.5 seconds.

Complete rigid engine support at full thrust

Easily moves engine at full thrust

Comes in 4" (JP4040HD) and 6" (JP4060HD) setbacks

JP4060HD compatible with Power Pole® and Talon®
NOTE: JP4060HD requires an adapter kit DK4600 for anchoring system. Power Pole® and Talon® anchor systems compatible on JP4060HD only.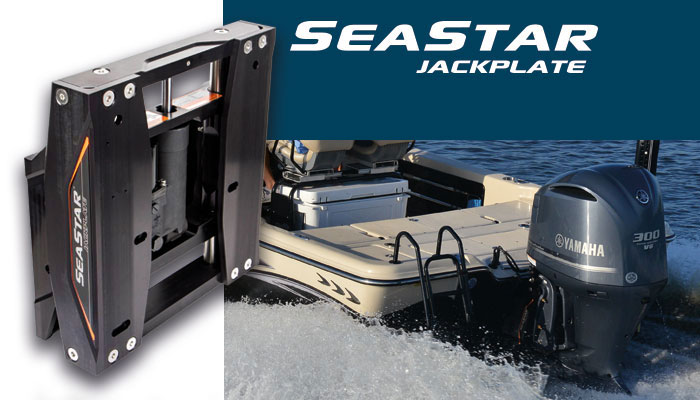 The SeaStar Jackplate is one of the sleekest and most durable engine Jackplates available. This essential performance accessory allows for higher speed, gains in fuel economy and the ability to run in shallow water. The all new SeaStar Jackplate features sleek, bold styling that is redefining the look for Jackplates.
FEATURES

Sleek, bold styling – redefining the look for Jackplates.

Presenting a full range of plates in 4, 6, 8, 10 & 12 inch setbacks.

Aesthetically matched to SeaStar steering cylinders.

New high speed hydraulic actuator. Bottom to top, 5.8" in under 8.5 seconds.

High output integrated actuator to lift and lower engines in all conditions.

Rated for 300hp engines up to 625 pounds dry weight.

Environmentally sealed non-contact SmartStick position sensor kit available for precise height information.

Complete rigid engine support at full thrust.

Easily moves engine at full thrust.

Designed to maximize engine tilt with SeaStar steering cylinders.

High visibility lift scale for quick glance operation.

Integrated circuit breaker gives electrical protection right at the battery post.

All hydraulic Jackplates come with basic rocker switch DK4020.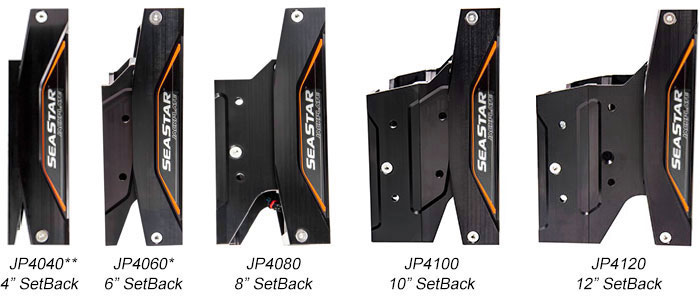 SEASTAR MANUAL JACKPLATES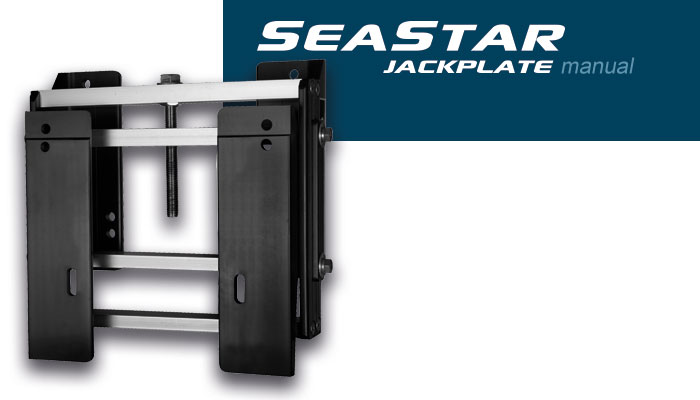 The The JP1000 Series Jackplate comes in 4", 6", 8", and 10" setbacks to help you find the best match for your boat and optimize performance. 3" of available lift.
FEATURES

Interlocking slide guides offer enhanced strength while providing smooth, 3" of bind-free travel.

The lead screw assembly sets the plate height and the Side Locks are used to hold the position.

The stainless steel lead screw is resistant to corrosion and pre-greased for smooth operation.

Maximum supported engine weight of 585 lbs is capable of handling the most demanding outboard engines including the latest generation of 4-strokes.
JACKPLATE ACCESSORIES
Optional accessories are available for our SeaStar Jackplates including switches, gauges, adapter plates and Pro-Trim trim controls.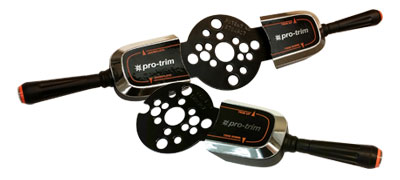 Pro-TrimTrim control the way it's meant to be… at your fingertips. With Pro-Trim from SeaStar Solutions, you can keep both hands on the wheel and concentrate on your driving. Its clean, modern design looks at home in any cockpit and there are no cords to tangle around the steering wheel, a big plus for boats with hydraulic steering!Single Function
PT1000-1PPro-Trim Dual Function
PT2000-1P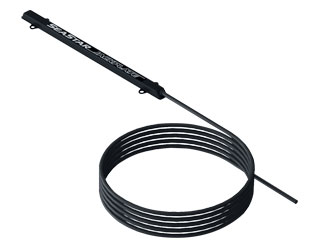 SmartStick and Gauge Kit
A high-visibility position scale provides the driver with an at-a-glance visual position indicator. For real-time information at the helm, SeaStar Solutions offers a SmartStick position sensor and gauge option. The SmartStick sensor is a non-contact linear position sensor, so there are no moving parts to wear out. All the electronics are integrated into the sensor body, making it fully waterproof.
DK4220
PART No.

75HP

115HP

150HP

200HP

250HP

300HP*

350HP

JP4040
JP4060
JP4080
JP4100
JP4120
JP4040HD
JP4060HD

HYDRAULIC JACKPLATES

PART No.

4" Setback Heavy Duty
JP4040HD**
6" Setback Heavy Duty
JP4060HD*
4" Setback
JP4040**
6" Setback
JP4060*
8" Setback
JP4080
10" Setback
JP4100
12" Setback
JP4120

MANUAL JACKPLATES

4" Setback
JP1040SS
6" Setback
JP1060SS
8" Setback
JP1080SS
10" Setback
JP1100SS

ACCESSORIES

Actuator Kit, 3/8″ Mount Bolt, 5/16″ socket
DK4710****
Actuator Kit, 7/16″ Mount Bolt, 3/8″ socket
DK4720*****
Basic Rocker Switch
DK4020***
Pro-Trim Single Function
PT1000-1P
Pro-Trim Dual Function
PT2000-1P
SmartStick and Gauge Kit
DK4220
Gauge and Harness Kit
DK4320
Accessory Adapter
DK4600
Hole Shot Plate Kit, 6"
HSP4060
Hole Shot Plate Kit, 8"
HSP4080
Hole Shot Plate Kit, 10"
HSP4100
Hole Shot Plate Kit, 12"
HSP4120
Jackplate Relay
DK3010
Jackplate Wire Harness
DK4420
Actuator Kit, 3/8" Mount Bolt, 5/16" socket
DK4710
Actuator Kit, 7/16" Mount Bolt, 3/8" socket
DK4720
SeaStar Stabilizer Clips, (pack of 2)
HYCL-001
Transom Plate, Small, 2" x 15"
18-79987
Transom Plate, Large, 4" x 17"
18-79988
NOTES:
* Accessory adapter port and starboard (DK4500P and DK4500S) 6" Setback are required for installation of Power Pole® or Talon® on JP4060HD.
** Cannot mount Power Pole® or Talon® anchoring systems.
*** Included with jackplate harness.
**** Used on Jackplates with serial numbers D4000-00001 to D4000-001843
***** Used on Jackplates with serial numbers above D4000-001843 and any Jackplate serial numbers starting with JPXXXX