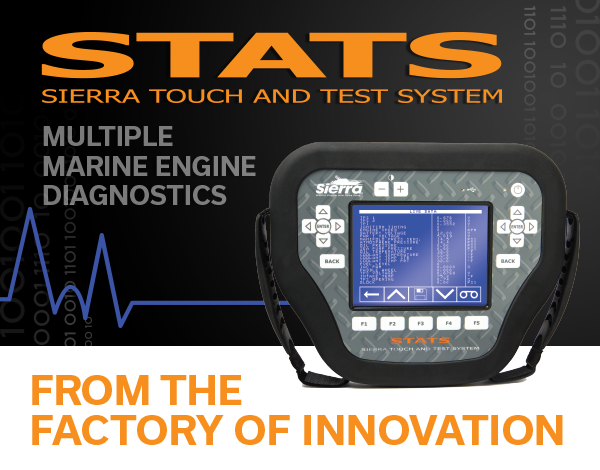 …………………………………………………………………………………………………………………………………………….
STATS™ (Sierra Touch And Test System) is an innovative new handheld engine diagnostic tool from Sierra. Now a marine technician can plug into a marine engine's Electronic Control Module (ECM) and diagnose engine problems without needing a laptop or PC. Techs will save time – and dealers will save money – moving directly to the job, instead of having to maneuver a boat trailer or motor on a stand to the computer bay, or roll around an ungainly computer cart. Techs can even perform engine diagnostics on boats while they're still in the water.
In addition, ECM diagnostic software and computer test systems have typically been available only to franchised or authorized dealers of each particular brand. With the STATS engine diagnostic tool, any dealer, franchised or independent, can now have access to this important service capability, creating opportunities to work on any of several popular engine brands. Read Our Press Release.
…………………………………………………………………………………………………………………………………………….
FEATURES
• ECU Identification
• Reads Fault Codes
• Clears Fault Codes
• Displays Live Data
• Performs Engine Systems Tests
• Stationary Tests
• Service Info
• Vibration Resistant
• Splash Proof
• Service Reset
• Component Actuation
• Internet Software Updates
• Print & Save Service Results
• USB, PC Interface
• Diagnostic Software and Sierra Parts Catalog
• Number of hours engine has run
• Programs keys and remotes on systems that have this capability
STATS is a portable tool that provides full diagnostic, service and repair capability on the most popular makes and models of watercraft including, outboard, sterndrive & inboard engines worldwide. Also includes PWCs.
How much can our STATS Engine Diagnostics earn you?
Now you can find out
…………………………………………………………………………………………………………………………………………….
DOWNLOAD THE STATS iQ App
What is Sierra iQ?
Sierra InfoQuest (iQ) is an informational database for marine engines and serves as a supplement to the STATS printed instruction manual. Sierra iQ also displays all of the applications that Sierra STATS is currently able to connect to.
What are the benefits of Sierra iQ?
Sierra iQ allows the user to view all the basic information on the engine. It also allows the user to see what software, cables, and hardware are required to connect the STATS diagnostic tool to an engine. Pictures and descriptions of the Data Link Connector (DLC) are available on most models when properly logged in with Username and Password and provides the user with tips and hints about the engine to aid in diagnostics. Sierra iQ is also equipped with a feedback function that allows users to add information to each engine allowing STATS users to support each other as well.
How do I download it?
In order to gain full access, users will need login with the email address registered the users STATS console using the serial number of the STATS console as the password. To gain Public access that displays application and cable information only, users will click 'Sign In' and then 'Sign In as Guest' in the sign in dialog box. The web-based version is free of charge at www.sierra-iq.com. For iOS and Android users, a mobile version is available for a one time purchase of $0.99 in the App Store for iPhone/iPad and Google Play for all Android devices.
…………………………………………………………………………………………………………………………………………….