DIGITAL MINI MULTIMETER
DUAL VOLTAGE CIRCUIT TESTER
SIERRA POWER AND RECHARGE KIT
TERMINALS AND CONNECTORS WITH CRIMP TOOL
TERMINALS AND CONNECTORS
DIGITAL MINI MULTIMETER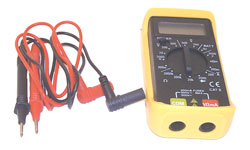 EC09090
Compact design and the functions you need for overall convenience. its low price will surprise you!
3 1/2 digit LCD display
16 test ranges, 6 functions
Battery and protective holster included
Fuse protected, removable safety leads and jacks
DESCRIPTION

DC Volts
0-200mV, 2000mV, 20V, 200V, 500V
AC Volts
0-200V, 500V
DC Amps
0-2mA, 20mA, 200mA
Ohms
0-200W, 2000W,20KW,200KW,2000KW
Diode Test
0-2000W
Battery Test
0-9v
DUAL VOLTAGE CIRCUIT TESTER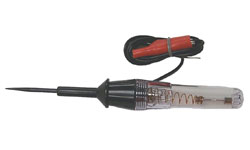 EC09040
Dual bulb tester for testing both 6 and 12volt circuits. Also can be used to checkspark plug wires. This is the most commonlyused tester for troubleshooting auto,truck, van and boat wiring. Supplied withground wire and clip. Packed one per card.
S.P.A.R.K SIERRA POWER AND RECHARGE KIT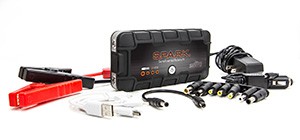 18-9149
Convenient and powerful. Jump yourautomobile, motorcycle, speed boat andmore! Charge your mobile devices anduse the handy LED flashlight.
Size: 6.69″ x 3.23″ x 1.26″
Output: 5V/2A, 19V/3.5A, 12V jump start
Input: 12V/1A, 5V/1A
4 hour approx. charging time
LED light modes (illumination, strobe, SOS)
Short circuit, over charge and discharge protections
TERMINALS AND CONNECTORS WITH CRIMP TOOL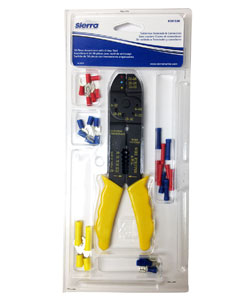 EC01350
30 piece terminal assortment packed withcrimp tool/wire cutter. Attractive 5 compartment clamshell fits neatly in tool box or glove compartment.
Handy for emergencies. Perfect forand lock. Maximum depth 1-1/8″.the do-it-yourselfers.
TERMINALS & CONNECTORS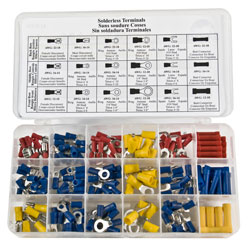 EC01310
175 of the most popular terminalsin a shatterproof nylon box.